CitySide Railing
Explore the clean, minimalist design of CitySide railing, now with even more options to add beauty and functionality to your home. Whether you want to create a serene backyard retreat with an unobstructed view, or an elegant outdoor space to host dinner parties, choose customizable CitySide railing to create the aesthetic that best fits your needs.
The durable, long-lasting aluminum construction minimizes maintenance time and expense. Engineered with a pre-punched bottom rail for ease of install, this lightweight railing solution delivers on reliability, beauty and performance.
Choose from two distinct top rail profiles – contemporary and traditional – that can be paired with sleek black aluminum balusters. Contemporary top rail sections can also be paired with tempered glass panels (sold separately), adding showstopping, high-end appeal
Features a pre-punched bottom rail, allowing for faster baluster installation.
Crafted from durable, powder-coated aluminum, providing a matte black finish and low-maintenance beauty
Posts feature integral bracketing, providing a clean appearance and reducing installation time.
Stair brackets are available for stair and angle installations with stair posts or Fiberon composite posts.* *Sold separately.
Rail Profile (<% option1 %>)
Color (<% option2 %>)
Order a Sample
<% selected_sample_variant.price | currency %> (Free ground shipping)
Bring your deck design to life
---
Fiberon® Discovery Deck Design Tools take the guesswork out of planning your outdoor living space project and provide you with the resources you need to navigate your deck design journey – from start to finish.
Design Now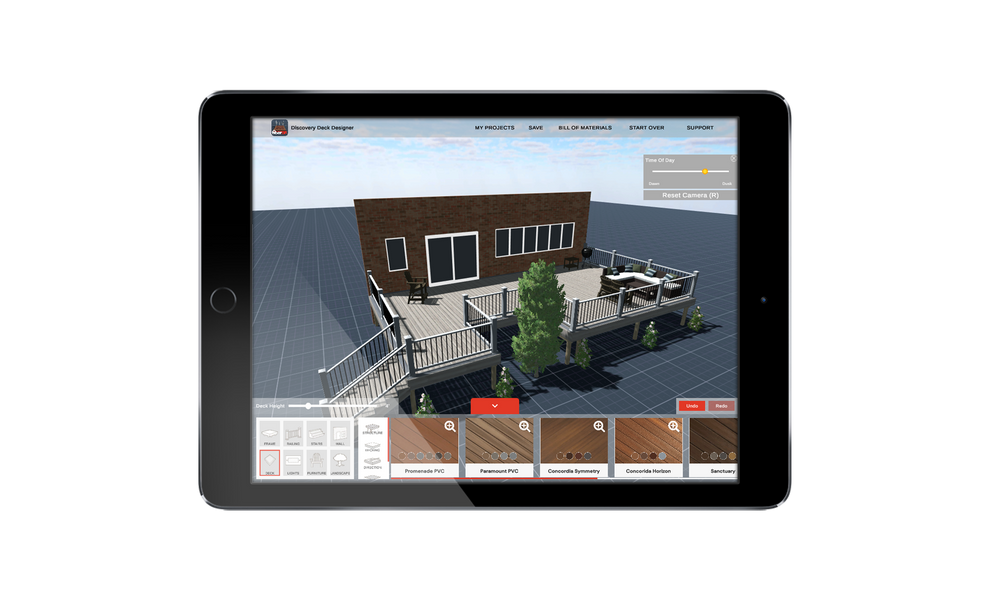 Technical Specifications
Line Kits
36-in. height available in 6- and 8-ft. nominal lengths

67.875 and 92.875-in. actual lengths respectively

42-in. height available in 6- and 8-ft. nominal lengths

67.875 and 92.875-in. actual lengths respectively

Installed width: 6-ft (72-in center of post to center of post) or 8-ft (96-in center of post to center of post).
Max distance between posts: for 69.5-in (6-ft kit) and 93.5-in (8-ft kit)
6-ft. line - 15 balusters per section
8-ft. line - 12 balusters per section
Stair Kits
36-in. height available in 6- and 8-ft. nominal lengths

67.875 and 92.875-in. actual lengths respectively

42-in. height available in 6-ft. nominal length only

67.875 and 92.875-in. actual lengths respectively

6-ft. stair - 12 balusters per section
Posts
Posts with attached welded brackets

Line - 38-in. and 44-in. heights
End - 38-in. and 44-in. heights
Corner - 38-in. and 44-in. heights
Post without brackets
Stair- 38-in. and 44-in. heights
Stair/Multi-Angle Bracket sold separately
Warranty Information
Fiberon CitySide Railing is backed by a 25-year limited, performance warranty