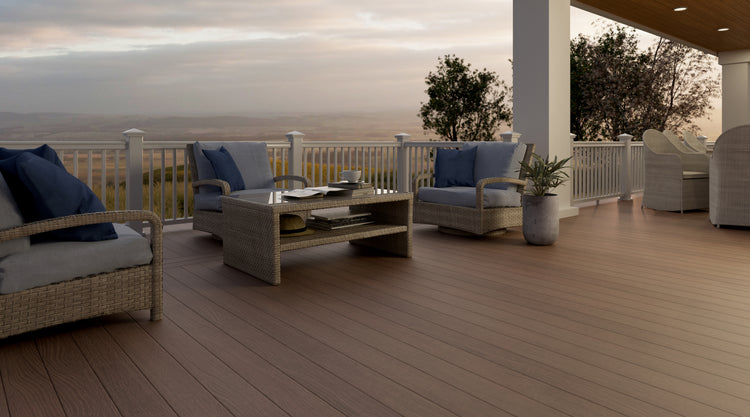 Unlike wood, capped composite decking won't splinter, crack, or decay. It won't fall victim to insect infestation, and never needs sanding, staining, or refinishing.  In fact, an occasional soap-and-water cleaning is usually all that's required to keep it looking like new. Plus, capped composites are exceptionally resistant to staining and fading, so your deck will retain its beautiful appearance for years with minimal upkeep. The same just can't be said about wood.


Capped composite provides an extra layer of protection and resists fading and staining.
Shown above: Sanctuary Decking in Espresso.


Capped composite decking has come a long way from earlier, uncapped options
Today we have capped composites, which feature a "cover" that provides added protection against the elements and everyday living. This capping contains UV inhibitors and provides an additional element of strength and resilience.
Of course, when we say cap or "cover" we don't mean something that is added after the composite decking is made. In the case of Fiberon capped composite decking, the cap is bonded to the core during a manufacturing process called co-extrusion.
The co-extrusion process creates strong, resilient deck boards with lasting good looks
So, how are capped composite deck boards made? Wood and polyethylene polymers are carefully blended to create a solid, dense core material. Then, a separate, stabilized polymeric cap is fused around the wood-plastic composite core. The core material is then co-extruded with a non-organic surface product that has a unique blend of premium, non-reactive color pigments, UV inhibitors, anti-oxidants, and mold inhibitors. These features combine to provide Fiberon capped composite decking with superior resistance to sun, stains, mold, and bacteria, as well as ensure lasting durability and outstanding color. Adding color pigments at precise intervals during the manufacturing process results in distinct multi-tonal streaking. Some streaking is dramatic, much like exotic hardwoods, while other boards have more subtle streaking. Either way, the results are beautiful, and one of the key elements that sets Fiberon composite decking apart from other brands.
Four-sided capping gives composite decking added versatility
In addition to enhanced durability and performance, four-sided capping means the boards are protected on the underside as well. Four-sided capping provides a polished appearance on top and bottom of the boards, so it's a great feature for second-story decks that may be seen from below.
Fiberon's Concordia decking is unique and is one of the few manufactured decking lines that is reversible, meaning the boards are embossed with wood grain texture on both sides. Reversible boards offer several advantages over non-reversible boards, specifically, fewer board cuts and less material waste.
Concordia Decking

 

is the ideal choice for those who want it all: style, resilience, low-maintenance, and reversibility. Shown above: Concordia Decking Symmetry Collection Decking in Warm Sienna.
Now that you're fully aware of the benefits of capped composites, maybe you're wondering how beautiful your home would look with a new Fiberon capped composite deck. See it all come together with our new Outdoor Living Visualizer.