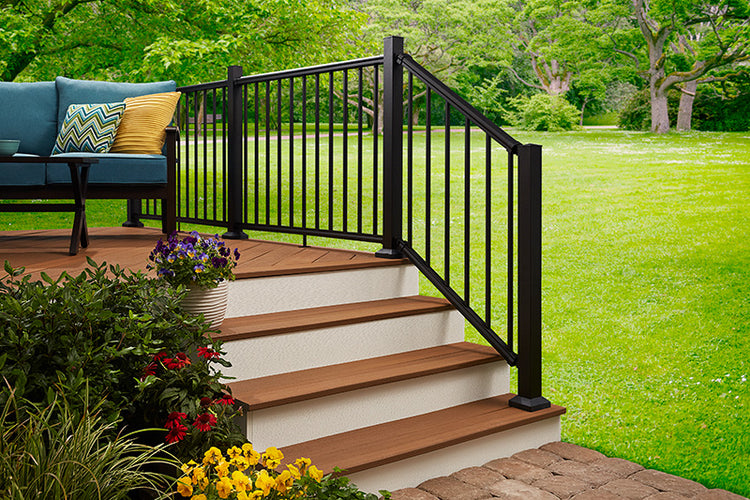 Countryside Railing and Brio Railing, Fiberon's strong, stylish composite railing options, are both available in three colors: Tranquil White, Serene Black, and Simply Brown. That means you can enjoy their elegant, refined finish (and exceptional resistance to stains, moisture, UV rays, and decay) in a range of colors designed to complement almost any architecture or design aesthetic.
Rich colors work with any home style or setting
Fiberon CountrySide Railing in Serene Black

Tranquil White looks especially striking in coastal settings or against a home with crisp, white trim. If you're adding railing to a front porch, this classic white is a can't-miss choice.
Serene Black provides the perfect balance of traditional styling (check out the sculpted top rail) and contemporary flair. And just as a touch of black works with almost any décor, black railing works well with almost any home exterior: brick, stucco, cedar shakes or shingles, as well as fiber-cement or vinyl siding.
For those who appreciate a darker color railing but don't want black, Simply Brown is ideal. If your lot is heavily wooded, for example, and you like the idea of your rail blending seamlessly with the surroundings, check out this color. Plus, Simply Brown is the perfect complement to the warm wood tones of Fiberon

 Concordia Horizon Collection decking in Ipe

, our most popular deck board.
Longer rail spans save money and time, improve sight lines
Fiberon CountrySide Railing in Tranquil White


There's the exclusive 12-ft. rail span, made possible by an innovative, aluminum sub-rail reinforcement. Lightweight yet remarkably durable, the aluminum H-channel enables longer rail spans without the threat of wobbling or sagging rails. That means the strong, sturdy feel of Countryside Railing stays strong and sturdy. Plus, the longer spans reduce the number of required rail posts, which saves money, speeds installation, and gives you a better view of the area beyond your deck. And if a 12-ft span doesn't suit your space, you'll be happy to know CountrySide rail and stair kits are available in lengths ranging from six feet to 12 feet.
Multiple infill options increase customization options
Fiberon Brio Railing in Tranquil White with round black aluminum balusters.


Of course, every railing needs an infill. Brio and CountrySide railing give you plenty of options. You can mix and match the rail colors with various infills, including composite balusters and metal balusters. That means you can create a one-of-a-kind surround that's as sturdy and durable as it is attractive.
Ready to get started with choosing the perfect railing? Then, head on over to our Discovery Deck Designer and have some fun creating your own one-of-a-kind outdoor space.