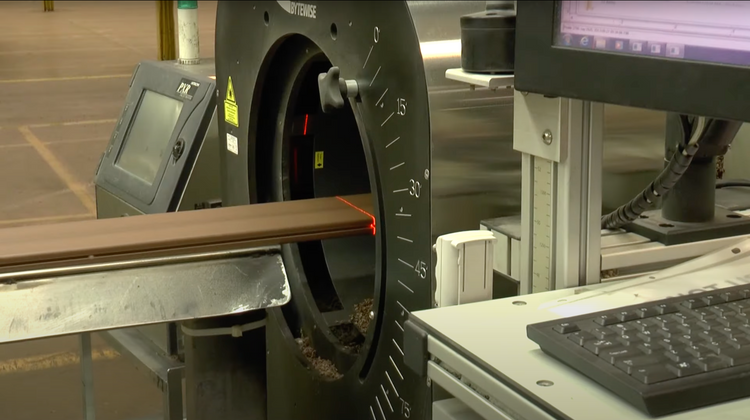 From traditional wood to composite decking, there are several products on the market today that can help you create the deck you've always wanted.  Composite decking is one of the most popular alternative decking products available and is longer lasting than a traditional wood deck.  For many customers, the biggest questions are, what materials are in a composite deck and how does it last so much longer?

Fiberon Horizon Composite Decking
Composite decking boards are made up of wood and plastic.  The wood particles can be anything from sawdust, wood chips, and wood fiber pieces.  The plastic components can be either virgin or recycled plastic materials.  Because of the use of recycled or recovered materials in the manufacturing process, composite decks are considered a more environmentally friendly product for deck building.
The  two most popular types of composite decking are uncapped and capped.  There are two main processes for creating composite decking.  One process is extrusion.  This is defined as a forming process in which the raw materials are mixed and forced through an opening to produce a product that maintains a relatively consistent size and shape.  The opening would be the size and shape of the decking board and the process would solidify the shape and desired size.  The second process is called compression molding.  Compression molding takes the combined molten materials and places them on a wood grain mold and then compresses them under extreme heat and pressure which creates a physical bond.  Composite decking boards are heavier than traditional wood boards and are not to be used as structural material.
It is also important to note that most capped composite decks are stain resistant, but if a stain should occur, it should be cleaned as soon as possible.  Most stains can be removed with soap and water or a household cleaning product.  The best way to maintain your composite deck is to sweep it off when necessary and hose it down occasionally.  For deep cleaning, scrubbing it with soap and water once or twice a year is enough to keep it looking good for years to come.  For the best and most beautiful composite decking options, choosing a trusted manufacturer like Fiberon is the first step in building the deck or outdoor living space of your dreams.
Get started on creating YOUR dream deck!