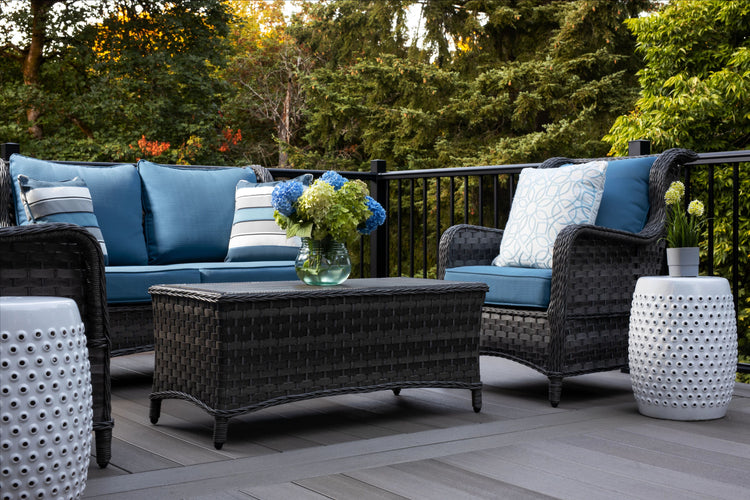 Faithful readers of the Fiberon blog are familiar with the many benefits of capped composites; however, you may not know quite as much about PVC decking. Here's a quick overview of what PVC decking is, its benefits, and when it might be the best choice for your particular deck or porch project.

PVC Decking offers rich wood aesthetics with super-easy maintenance.
PVC Decking: able to withstand moisture, dents, heavy foot traffic, and even flames
PVC stands for polyvinylchloride, which is the world's third most widely produced synthetic plastic polymer. Chances are you already have some PVC products in or on your home: PVC-clad windows, trim, or lattice work, to name a few. Because of its chemical composition, PVC is a durable material that is highly resistant to moisture, insects, dents, and even flames, making it a smart choice for many decking and porch applications.
PVC decking contains no organic content.

 

That means there's nothing to promote mold growth, a big concern in damp areas such as lakes, marinas, or beachfront properties. Moisture resistance is the main reason why many homeowners and contractors choose PVC decking for waterside applications.
PVC decking resists insect infestation.

 

Lack of organic content also means there is nothing for hungry bugs to feast upon, so no need to worry about creepy crawlies destroying your beautiful outdoor space.
PVC decking resists dents.

 

It's well-suited for high-traffic areas. Plus, whether wet or dry, it is highly slip-resistant. Another bonus for the contractor or DIYer: The boards are lightweight, so they are easier to carry and work with than other options.
PVC decking is flame resistant.

 

It may not be the first thing most people think about when selecting decking material, but flame-resistance is a very important consideration if you reside where fires are a chief concern, such as Wildland Urban Interface (WUI) zones. In these locations, check that any decking you are considering is

 

WUI-approved

 

and complies with all relevant building codes regarding flame spread indices and wildfire exposure.
PVC decking is easy to maintain.

 

Just as with capped composites, PVC decking never needs repainting, re-staining, or refinishing. An annual cleaning with mild detergent and water is usually all that's needed to keep the boards looking their best. Of course, always consult the decking's care and maintenance guide before using any cleaners or chemicals on the decking.

PVC Decking stands up to people, pets, and lots of parties, thanks to its dent-resistant nature. (Shown here: Paramount PVC Decking in Sandstone.)
For the best project outcome, follow installation instructions carefully
Of course, there are some drawbacks with PVC decking – none too overwhelming, but it pays to be informed.
Temperature fluctuations:

 

PVC decking will expand and contract with temperature changes. Your decking installation instructions will likely include recommendations for spacing (gapping) between the boards. Follow these guidelines carefully, as they will ensure there is adequate air flow and drainage at all times. Another way to minimize the impact of expansions/contractions involves the decking color and the length of the board runs. Lighter colors naturally absorb less heat, so they will not expand as much. Consider lighter colors for the body of your deck with darker shades around the edge or used as an inlay. Use shorter boards wherever possible, and incorporate a splitter or divider board (also called a breaker board) between each continuous run of longer boards.
Construction best practices:

 

Neither PVC nor composite decking products are made to support a deck structurally. The boards must be installed over traditional wood posts and joists.
Cost:

 

Generally speaking, PVC decking is more expensive than wood decking. However, before making your final decision, calculate the added expense of regular care and maintenance as well as periodic refinishing of a wood deck. Depending on where you live and how large your outdoor space is, you could be looking at a fairly significant outlay of cash. Long-term maintenance savings with PVC decking may balance out the higher initial expense.
Chemical interactions:

 

Some brands of insect repellent and suntan lotions can stain PVC decking. In fact, these products can create problems on virtually any kind of decking. It's best to avoid applying bug sprays or sunblock while standing on your deck. Also, do not use rubber, vinyl or polypropylene-backed rugs or mats on PVC decking. Stick with colorfast cotton rugs to avoid any possible reactions that could result in decking discoloration.
Fiberon Paramount PVC Decking sets new standards for its like-wood aesthetics
PVC decking sounds like a great option, you may be thinking, but how does it look? As with many things, it depends on the brand you select. This is where Fiberon Paramount PVC Decking really sets itself apart. Once upon a time, many homeowners dismissed PVC decking as too "fake" or "plastic-looking." However, the innovation engineers at Fiberon figured out how to produce a PVC product that looks more like wood, including authentic grain details and multi-tonal streaking. There are four color options for Paramount Decking. Each color features variegated streaking for added depth and drama. Plus, there are four complementary fascia colors. (Fascia boards are the trim boards used to finish the sides of the deck.) The color options range from soft grays to golden brown, so you'll have no problem finding the ideal shade for your outdoor space.

This casually elegant backyard space features Fiberon Paramount PVC Decking in Mineral, one of two solid colors in the collection.
And if you appreciate the added assurance of a rock-solid warranty, we've got your covered there as well. Fiberon Paramount Decking PVC carries a Limited Lifetime Warranty.
Here's more great news: Fiberon manufactures all of its products using sustainable processes and a closed-loop water system to conserve one of our most precious resources. Plus, Paramount PVC Decking contains post-consumer recycled plastics, which reduces the amount of unwanted materials that end up in landfills each year.
See how great your backyard would look with beautiful, easy-to-own Paramount PVC Decking! Try our visualizer tool.
Editor's Note: This post was originally published 3/14/2013 and has been updated for accuracy and comprehensiveness.