Create your outdoor oasis.
Explore the clean, minimalist design of CitySide railing, now with even more options to add beauty and functionality to your home.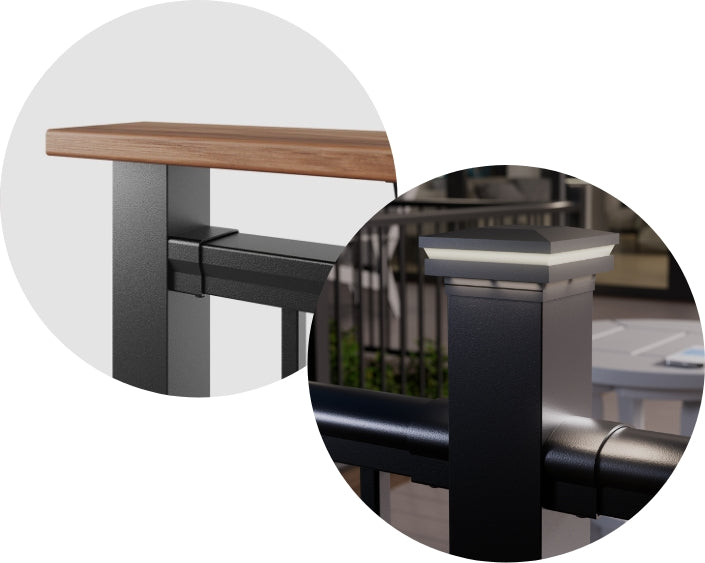 Choose your options.
Drink Rail
The over-the-post drink rail kit can be used with both traditional and contemporary top rail profiles, offering a place to set down beverages, leaving hands free for handshakes and hugs.
Integrated Lighting
Complete the look by selecting Fiberon lighting accessories designed to match CitySide railing, providing ambience and added safety for your outdoor living space.
Let us help you design your railing system.
Leave your complicated railing and lighting design to Fiberon's trusted team. Fill out and submit our convenient railing take-off form and we'll help you design and shop for all your railing needs.
Frequently asked Questions
Railing sections include top and bottom rails, square metal balusters, spacer clips and crush block with screws. Railing brackets are sold separately or pre-welded to metal posts.
6 and 8 ft. line or stair sections for 36 in. rail height.
6 and 8 ft. line or 6 ft. stair sections for 42 in. rail height
6 or 8 ft. line sections (not recommended or approved for stairs).
Metal CitySide posts only.
Glass or picket, Traditional or Contemporary top rails.
Glass infill can be sourced from any local glass shop. Glass infill can be expensive and delicate to ship. Rather than add undue cost to the program, installers can easily source panels locally and save cost and returns if glass is damaged.