The last deck
you'll ever build.
We combine the strength of real wood with the long-lasting resilience of recycled plastic to create products that stand the test of time. Plus, our use of recycled materials and resourceful processes makes Fiberon a responsible choice from start to finish.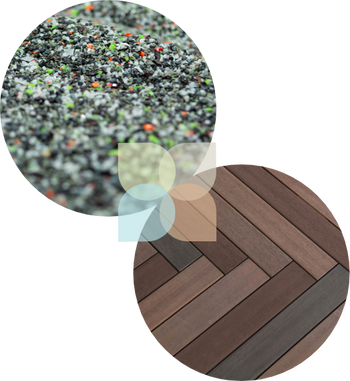 Fiberon is proud to be a corporate partner of Yellowstone Forever's sustainability initiative, to help ensure that Yellowstone National Park remains for generations to come.
The beauty of choosing Fiberon.
Your outdoor living space should provide the comforts of the indoors with the rejuvenating benefits of nature, giving you a place to unwind and make memories with family.
Fiberon products are nearly maintenance free and retain their beauty for years to come, meaning you can enjoy the quiet moments and not spend precious time on maintenance and upkeep.
Trees are beautiful.
About half of what's in our decking comes from recycled wood – sawdust and leftover material that would otherwise be discarded. That's the beautiful thing: even though they look like wood, we aren't cutting down trees to make our deck boards.
Fiberon uses 100% recycled wood, preventing nearly one million trees – or 20,000 acres of healthy forest – from being cut down each year. Yellowstone National Park encompasses approximately 2.22 million acres of forest.
Plastic lasts a lifetime (or ten).
The other half of the core of our deck boards comes from recycled plastic, including grocery bags and recycled packaging material. A typical American family uses around 1,500 plastic bags each year, and each bag gets used for about 12 minutes. Once it's discarded, you'll probably find it in a landfill, or in the ocean, where it could last up to 1,000 years.
Our in-house recycling facility recycles around 100 million pounds of plastic each year, equivalent to the weight of more than 66,000 bison.
Resourceful to the last drop.
We reuse almost all of the water required for manufacturing our products. We keep a water reservoir about the size of the standard swimming pool at each plant that we can use and reuse – and reuse again.
Our closed-loop water system saves nearly 3.5 billion gallons of water annually. Yellowstone Falls drops that much water in 1.2 days!

Our warranties are second to none.
Fiberon products are protected by industry-leading warranties covering stain, fade and performance for both residential and commercial applications.
The most common pine tree in Yellowstone can live up to 100 years.
The average wood deck lasts only 10-15 years.
Start your project today.
Save the environment and your time with sustainable composite materials from Fiberon.