CitySide Traditional Railing Stair Kit
CitySide Traditional Railing Stair Kit
<% ( (selected_variant.price) ? selected_variant.price : last_price) | currency %> <% selected_variant.compare_at_price | currency %>
The sleek, minimalist design of CitySide railing maximizes the view beyond your deck or porch.
The durable, long-lasting aluminum construction minimizes maintenance time and expense. Engineered with a pre-punched bottom rail for ease of install, this lightweight railing solution delivers on reliability, beauty and performance.
Clean lines and contemporary styling work with any architecture.
Pre-punched bottom rail enables faster baluster installation.
Premium powder-coated aluminum resists rust.
No exposed welds or cuts help prevent injuries
Posts feature integral bracketing, providing a clean appearance and reducing installation time.
Stair brackets are available for stair and angle installations with stair posts or Fiberon composite posts.*
*Post Sold Separately
Color (<% option1 %>)
Height
Length
Bring your deck design to life
---
Fiberon® Discovery Deck Design Tools take the guesswork out of planning your outdoor living space project and provide you with the resources you need to navigate your deck design journey – from start to finish.
Design Now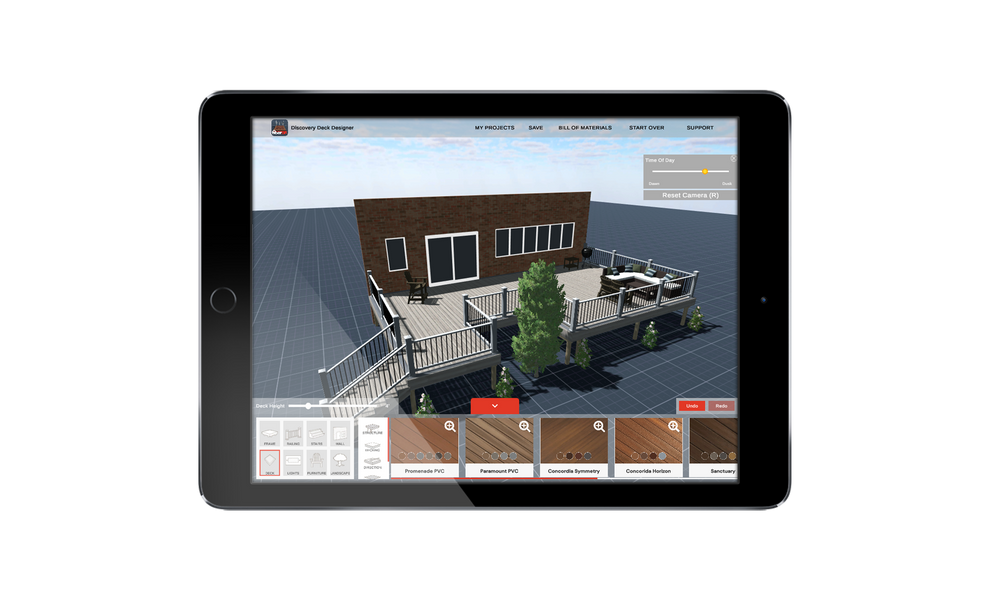 Technical Specifications
Stair Kits
36-in. height available in 6- and 8-ft. nominal lengths

67.875 and 92.875-in. actual lengths respectively

42-in. height available in 6-ft. nominal length only

67.875 and 92.875-in. actual lengths respectively

6-ft. stair - 12 balusters per section
Posts
Posts with attached welded brackets

Line - 38-in. and 44-in. heights
End - 38-in. and 44-in. heights
Corner - 38-in. and 44-in. heights
Post without brackets
Stair- 38-in. and 44-in. heights
Stair/Multi-Angle Bracket sold separately
A valuable add-on to increase safety and mobility and ensure compliance with the Americans with Disabilities Act (ADA).