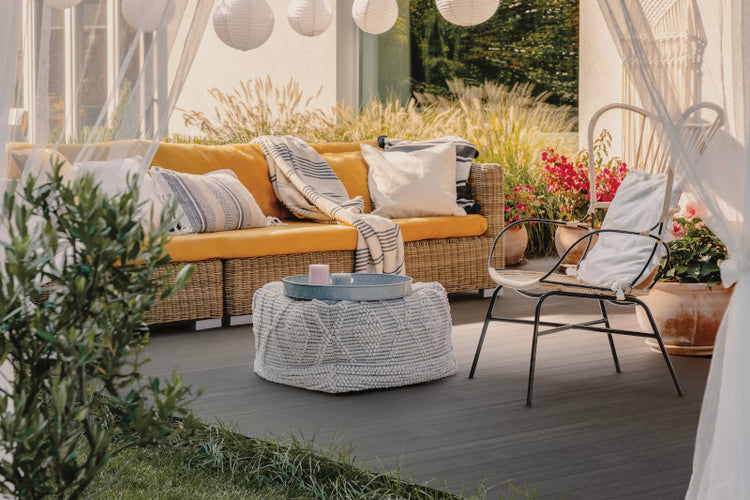 So, whether you're building a deck for the first time or replacing the one you have, it's important to know your decking options. In the past, decking material options were limited. Now, with an array of choices, more homeowners and builders are trending toward alternative deck board materials such as composite and PVC. And as time has gone on, composite decking has gone through a number of incarnations. Technological advances have dramatically improved the look, feel, durability, and overall quality of composite and PVC decking materials.
Composite decking is not a passing trend. It's quickly become a mainstay in the decking and home improvement industry. As consumers and builders learn more about these alternative materials, their preference for them continues to increase. Composite decking has been featured on prominent home improvement programs on HGTV and the DIY Network as well as ABC's "Extreme Home Makeover." Homeowners on these shows find their composite deck is easier to care for, safer than traditional decking, and will last for decades without ever having to stain or paint it. And, realtors are promoting composite decks as an upgrade in their listings. Composite decks are viewed as a luxury item and are highly coveted. In the past, composite decking materials could only be purchased from specialty lumberyards. But, big box home improvement stores have taken notice, and composite decking can now be purchased alongside traditional decking materials. While the use of composite decking is on the rise, the question remains: Does composite decking really stack up to traditional decking material?
Wood Decks - Are You Prepared for Yearly Deck Maintenance?
Wood decks require hours and hours of labor-intensive maintenance every year. Scrubbing and staining a wood deck is vital. Traditional wood decks trap moisture and will twist, crack and splinter if not preserved with stains or paint on a regular basis. With a wood deck, you will spend several days going through a deck regimen.
Depending on the size of your deck, you may spend a day or two carefully sanding the surface to remove splinters and scratches, another day to power-wash, another day to apply a fresh coat of stain, and yet another day to apply a sealer against weather, insects, and traffic use.
You do not need to do any of these things with composite decking. There is no sanding, no staining, and no sealing. The fact that composite decking requires little maintenance is a key reason why consumers purchase composite decking. For most types of composite decking, a little soap and water is all that is needed to keep it looking great.
Consider Exposure to the Elements - Weather, Insects and Rot.
Traditional wood decking is generally prone to damage and rot from moisture, weather, temperature fluctuations (freezing and thawing, snow and iceloads), insects, and normal wear and tear. A deck that is not protected will deteriorate. The only way to prevent this is to apply a deck preservative like a sealer, stain or paint designed specifically for decking. Each product gives a deck a different look and feel, but generally, they all function the same way. They help protect wood from the gradual degradation from moisture, fungus, and insects.
These deck protecting agents are effective, but have to be reapplied, typically every other year.  There is no lifetime protection for a wood deck. But reapplying a protective barrier every other year or annually depending on where you live, will slow down the deterioration process.
Pressure-treated wood decking contains chemical preservatives to make it more resistant to insects and rotting. Unfortunately, many brands of pressure-treated decking hold a great deal of moisture, shrinks unevenly, and twists when it dries. So while it may be resisting insects and rotting, pressure-treated wood often loses its attractiveness pretty quickly.
Maintenance demands of wood decking are not required with composite decking. Composite decking is made from recycled materials (plastic and wood), and most are now encapsulated with an outer layer. This creates a hard, exterior shell that protects from stain, mildew, scratching, insects, UV fading, and more. At Fiberon we use PermaTech Innovation to ensure the ultimate deck consumer, satisfaction in scratch, element, and stain resistance. Watch how it's made.
Traditional wood decks have a lifespan of 10 to 15 years. Because composite decking is weather, insect, and rot resistant, making it last for 25 to 30 years or longer.
Think About Long-term Costs
Consumer Reports compared wood decking to alternative decking materials. They reported that pressure-treated pine is very popular and very inexpensive; but the wood tends to change color very quickly, and will rot, crack, and splinter over time. Pressure-treated woods have the shortest deck life expectancy, and while the initial cost is relatively low, the long-term costs for repairs, upkeep, and replacement tend to be very high.
Exotic hardwoods are very expensive, and their deck life span is much longer; however, exotic rich colored hardwoods require a great deal of preservation to not turn gray and are often very difficult to maintain.
The cost of composite decking materials falls in the middle. The upfront cost may seem a bit pricey, but the long-term expenses are relatively low. Composite decking has a very long life span with very little maintenance needed.
Consumer Reports also estimated that the cost for maintaining a wood deck over a 10 year period could cost in upwards of $5000, while the cost for maintaining a composite deck is estimated at less than $50 per year. Bottom line is that composite decking won't break the bank, particularly when you consider the long-term savings.
Real Wood Looks Remain Important
At Fiberon, we know homeowners want their deck to be functional, but also beautiful. A deck should enhance your backyard and landscape and be a treasured extension for your home.
Traditional wood decking can be stunning. Tropical and exotic woods are striking, and the rich color of oiled hardwood, or the weathered pale grey, can complement any home and backyard.
Composite decking is also very beautiful, but comes without the hassle of wood maintenance. Composite decking comes in many colors and styles. Some composite materials mimic wood grain and others are monochromatic or multi-chromatic. Composite decking can also be hyper-realistic to resemble a tropical hardwood without the labor-intensive upkeep.
Composite decking often uses hidden fasteners rather than on-deck screws, leaving a clean, pristine surface that is low maintenance and free of splinters, warping, and nail pops.
Hidden deck fastener systems are an option when installing a composite deck. Composite deck boards are manufactured with grooved edges on the sides to allow for the placement of hidden deck fasteners. Hidden fastener systems provide uniform spacing and gapping between the boards, which means there is no guesswork involved in the installation process. This type of system also gets rid of the need to pre-drill holes since there are no exposed screws. Using a hidden deck fastener system in a composite deck means that your deck will be free from screw heads showing.  These hidden fastener systems create a beautiful, smooth surface and an easy transition from the inside of your home to your outdoor living space.
Composite decking offers variation and interesting architectural design possibilities. Contractors and homeowners alike enjoy the creativity that composite decking offers. From classic to contemporary, traditional grains to exotic hardwoods, composite decking from Fiberon can give you the look you love no matter what your style.
Impact on the Environment
For decking material to be labeled "eco-friendly," it must be produced in such a way that it does not have a negative impact on the environment.
Pressure-treated wood has been the most common decking material used in the past, but the process of making the wood "pressure- treated" is of great concern. To make the material suitable for outdoor flooring use and resistant to bug infestation, pressure-treated wood is injected with chemicals. Wood treated with chemicals cannot be burned or recycled
Composite decking is made from polyethelene (i.e. milk jugs, shampoo bottles, grocery store bags and laundry detergent containers) combined with wood flour (i.e. scrap from window trim, doorframes, lumber, and cabinet pieces). Some manufacturers use only locally sourced recycled materials.
There are two main processes for creating composite decking.  One process is extrusion.  This is defined as a forming process in which the raw materials are mixed and forced through an opening to produce a product that maintains a relatively consistent size and shape.  The opening would be the size and shape of the decking board and the process would solidify the shape and desired size.  The second process is called compression molding.  Compression molding takes the combined molten materials and places them on a wood grain mold and then compresses them under extreme heat and pressure which creates a physical bond.  For some composite decking companies, all water and leftover ingredients are recaptured and recycled in the manufacturing process.
The making of composite decking is virtually waste-free, and the product contains no toxic elements. Thousands of tons of wood and plastics are diverted from landfills and incinerators each year in the composite deck manufacturing process.
Because of the use of recycled or recovered materials, composite decks like the ones designed by Fiberon are considered a more environmentally- friendly product and contribute to high-performance green building due to high-recycled content.
Conclusion: Composite Decking Stacks Up to the Competition 
Whether you choose wood or composite decking materials, knowing your options is imperative.  Quality, look, feel, and design potential are essential factors in choosing decking.
Some pressure-treated wood decking can be low-priced, and exotic woods and hardwoods are expensive.  Maintenance time and cost should be strongly considered when purchasing a decking material, as well as price, eco-friendly profile, and decking life span with regards to rotting, warping, splintering, weathering, and insect damage.
Composite decking stacks up, and, in some respects, it surpasses the competition. Composite decking is low maintenance as it never requires any sealing, painting, or sanding. It is made in an eco-friendly process, salvaging wood and plastics that would otherwise be taken to landfills. Composite decking is reasonably priced, particularly when considering the long-term maintenance costs. This form of alternative decking material is weather, insect, rot, and warping resistant, not to mention that many composite decking options are beautiful and simply stunning.
Next Steps
Regardless of the decking material you choose, it is essential to consider a few key factors.  How are you planning to use your deck? Where are you going to build your deck? Is my new deck going to be covered by a warranty? And most importantly, who is going to install your deck? Are you going to build it yourself or hire a contractor?
It is critical to know what to expect when you're decking. And no matter what decking material you decide to use, know your options. Do your research, and know Fiberon is here to help you build the deck of your dreams.