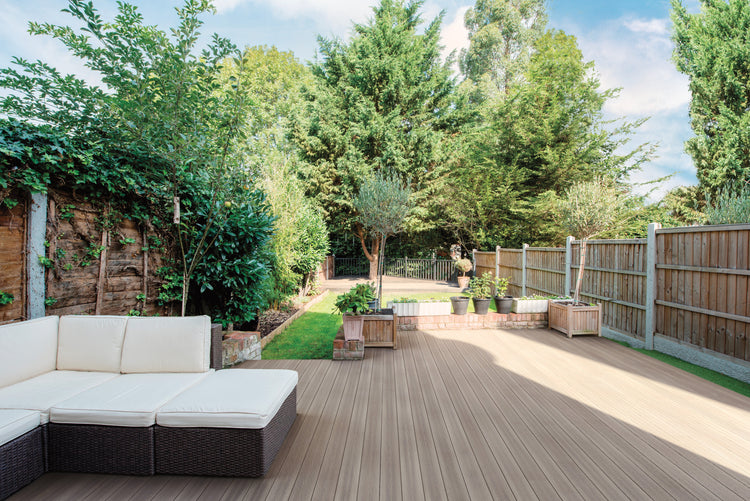 If you have a crumbling concrete patio that needs replacing, or perhaps a rooftop space with a spectacular view, you may be considering a deck. Great idea! Fiberon® composite decking is available in a range of stunning colors that complement any space. It's incredibly durable and, best of all, easy to maintain. Plus, you can install Fiberon decking easily over a concrete patio (to create what is called a "floating deck") or on a rooftop space – provided you include a sleeper system.
A sleeper system is a substructure comprising joists that sits between a solid surface (such as concrete) and the decking. Ground-level and rooftop decks present unique challenges when it comes to water management and air circulation.  The sleeper system enables adequate drainage and ventilation which, in turn, protects the deck boards from damage due to moisture build-up. Sleepers also enable easier access to the area beneath the decking, either for clearing accumulated debris or maintaining the surface material.
Fiberon decking works with minimal clearance requirements
When used with a sleeper system, Fiberon composite decking is approved for installation with 1 ½" of clearance from the bottom of the deck board to the pad/concrete surface – meaning you can now install Fiberon deck boards almost anywhere.

Here are some more tips to ensure a successful sleeper system installation:
Sleepers must be at least 1-1/2 inches in both height and width.
The solid surface must be flat and level; no floating systems allowed. Gravel, sand, dirt, and concrete pavers are NOT suitable materials upon which to install the sleepers and decking.
Use sleepers that are code-approved, long lasting, and resistant to wet conditions and rot.
Install sleepers directly on the solid surface. The screws must penetrate the concrete by one inch or more.
Install the sleeper joists parallel to the direction of water run-off.
Apply standard spacing to the joists: no greater than 16 inches on center (o.c.) for residential applications; no greater than 12 inches o.c. for commercial applications.
Consider using spacers under the sleeper to further improve drainage (although it isn't mandatory).
Widen the recommended gaps between deck boards to greater than ¼ inch.
Use face fasteners, if possible.
Use joist tape before installing decking. Although this is simply a recommendation, joist tape is useful in limiting the amount of water that can come into contact with the top of the sleepers.
And of course, please review all local building codes prior to beginning your project.
For more tips and resources on composite deck installation, visit Fiberon. For specific information regarding floating decks and sleeper installations, read this Technical Bulletin. Then, start designing your own dream deck with our FREE, easy-to-use Deck Design Tool