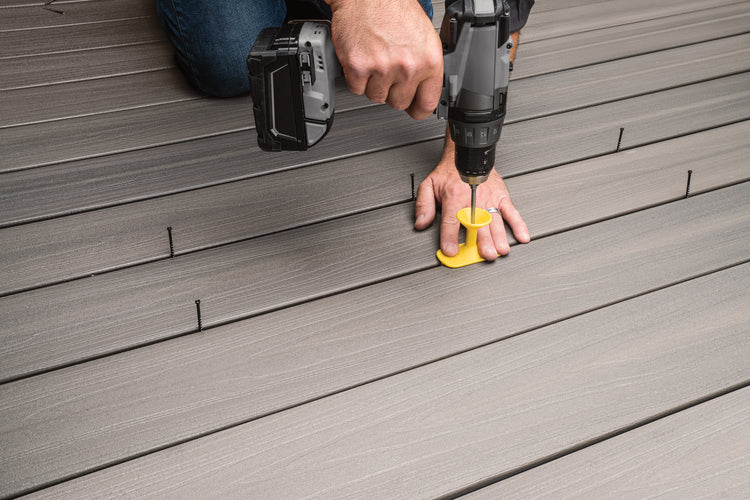 Composite deck fasteners do more than secure boards. They play an important role in your deck's design aesthetic and functionality as well.
Today's homeowners want outdoor spaces that reflect their indoor rooms – from comfy furniture and curated accessories to smooth decking surfaces that rival the look and feel of beautiful hardwood flooring. And while choosing chairs and pillows is simple, many consumers aren't quite as confident when it comes to selecting materials to achieve their desired look. Selecting a high-quality composite deck board with rich color and natural grain patterns is the first step. Choosing the right fasteners, however, is what seals the deal.
Hidden fasteners, such as the Phantom Universal Hidden Fastener shown above, slide into the channel on a grooved edge board and are secured directly into the joist.

Board profiles determine your fastener options
There are two profiles for composite deck boards: grooved and square edge.
While all Fiberon deck boards can be face-fastened (meaning the fastened into the board's surface), grooved boards are designed to accommodate hidden fasteners: metal or plastic clips that fit into the channels/grooves that run the length of each side of the board and are then secured to the joists. The boards are secured from the side rather than by drilling a screw straight down from the top. As a result, the fasteners are hidden between the boards and the deck surface is smooth, like interior flooring. 
Fast Facts on Fiberon Hidden Grooved Fasteners
Fiberon® Phantom® Universal Fasteners
Constructed from high-quality HDPE material with a carbon steel-coated screw that has been pre-inserted to make installations quicker and easier.
This fastening method helps minimize lateral board movement. 
Hidden fasteners ensure consistent 3/16" gapping between boards, which allows for normal thermal movement (expansion and contraction) that can be experienced throughout the changing seasons. Without appropriate gapping or spacing, the boards can buckle or twist. Gapping also ensures proper draining of moisture and debris from the deck surface.
Plastic fasteners are also less expensive to manufacture. And while the cost savings may not add up to a significant sum, it can make a difference on a tight budget.
For use on PE decking only.
Fiberon Phantom Universal Hidden Fasteners have a pre-inserted carbon steel-coated screw that helps prevent rust and corrosion.


Fiberon® EDGE®, EDGEX®, AND EDGEXMETAL® Clips
Designed for use on all grooved decking, including PE and PVC.
Pre-assembled, one-pass fasteners do not require partial installation and are easier to install with the included NEVER-MISS

™ Guide.

Gusset holds the board down, is up to 88% stronger than competitor's clips in lateral movement tests, and up to 50% stronger than competitor's clips in uplift holding power tests.*

Each clip ensures consistent 3/16" gapping, allowing for thermal movement and proper drainage

Fiberon EDGE Clips are for 90-degree deck patterns.
For any deck pattern, use Fiberon EDGEX (wood framing) or EDGEXMETAL (metal framing) Clips. 
*Based on independent third-party testing.
 Fiberon EDGE (left), EDGEX (center), and EDGEXMETAL (right) clips can help install decking in less time. Each one is pre-assembled and comes with a NEVER-MISS guide that speeds up the fastening process.
Face-fastening is another option for securing deck boards.
Some contractors and homeowners prefer traditional surface fasteners. These fasteners work with square edge boards. These boards, as the name implies, do not have any channels or grooves along the sides. In addition, square edge boards are often installed around the perimeter of decks to create a solid outward-facing edge.
Fiberon square edge decking works with two types of face fasteners: Starborn's PROPLUG® SYSTEM Deck and Cap-Tor xd Color-Matched Screws.
 Starborn® PROPLUG® SYSTEM Deck
The PROPLUG SYSTEM is a superior and easy-to-install plug fastening system for PE and PVC decking.
Drill and set each screw, then tap in the color-matched plug with a hammer for a smooth finish. 
System comes with PVC/Composite Tool, screws, and matching plugs.
Plugs are made from Fiberon deck material for a perfect match.
 The PROPLUG SYSTEM Deck includes plugs made from Fiberon decking material, ensuring a perfect match. 
Starborn® Cap-Tor® xd Color-Matched Screws
Color matched to Fiberon decking, providing a clean and uniform finish for both PE and PVC decking.
Epoxy-coated carbon steel or 305 Grade Stainless Steel versions available, and each includes a T-20 Star bit.
Use with Smart-Bit® Depth Setter for perfect depth setting every time
(sold separately).
Choose from a variety of curated colors to match Fiberon decking.
A few final words about decking fasteners 
We also carry color-matched screws and plug systems for fascia, some of which can be used on risers as well. 
If the fasteners will be exposed to continual salt air, near large bodies of water or swimming pools, or used in any other areas where corrosion is more likely to occur, always use 305-grade or 316-grade stainless steel decking screws.
While it is important to consider the finished look you want, you should always choose your fasteners based on the material being installed as well as the prevailing environmental conditions of the project's location.
Dreaming of a new deck? Try our Deck Design Tool and bring your dreams to life.