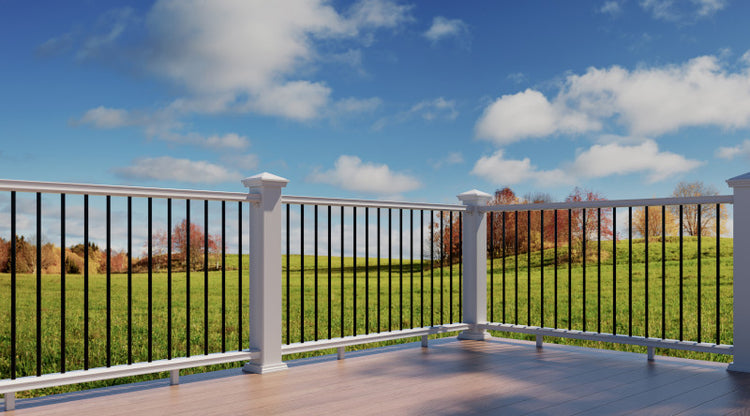 And let's not forget that railing is an essential element in keeping your deck safe and code compliant (more on that in a minute).
Below you'll find answers to the three most common questions we receive regarding deck and porch railing. Use this information to help you select the best products for your home and your lifestyle.
Do I need to install a railing system?
If the deck is higher than 30 inches above grade, a guardrail is required. If you opt to add a railing system to a deck that is lower than 30 inches above grade, you still must comply with all other applicable building codes.
There are two regulatory bodies that oversee deck and railing installations. The International Residential Code (IRC) applies to decks attached to single-family detached homes. According to the IRC, guardrails must be at least 36 inches in height, as measured from the deck surface to the top of the railing.
The International Building Code (IBC) regulates commercial decks attached to businesses or multi-family dwellings or apartment buildings. For these properties, the IRC dictates that guardrails must be at least 42 inches high.
You can choose to install taller guardrails in either instance; however, you must ensure the railing conforms to all other code requirements. Regardless, the spacing between balusters must not exceed 4 inches. (Note: Always consult local building officials and/or familiarize yourself with code requirements prior to beginning your project.)
     2. What type of railing should I use?
There are no hard and fast design rules; however, here are some things to consider.
Your house style: Just as a contemporary home is well-suited to contemporary décor, your home's architecture will likely influence your railing selection. Fiberon HavenView Countryside, for example, features a sculpted top rail (sometimes called a "bread loaf" shape) that works well with a Colonial home, classic Cape Cod style, or Victorian, among others HavenView Countryside Railing in Tranquil White looks especially at home on coastal properties when paired with matching white beveled composite balusters.

Fiberon HavenView Countryside Railing in Tranquil White looks crisp and clean against this coastal Long Island setting.
Fiberon Brio Railing has a flat top rail (often referred to as a party rail because it's a handy place to rest your drink during a get-together) that gives a clean, contemporary look to virtually any space. In the photo below, White Brio Railing is paired with sleek black metal balusters for a sleek look that defines the space yet never overpowers it.

Fiberon Brio Railing in White with black metal balusters enables a great view of the beautiful yard beyond this deck.
The view: If you want to enjoy the scenery, choose balusters that blend with the surroundings rather than obscure it. In our experience, metal balusters are hard to beat. Their slim profile and dark color appear to recede from view, enabling a clearer view of the area beyond the deck. In fact, one of the key complaints the owner of this gorgeous Fiberon deck had regarding her previous deck was the way the thick wood balusters interfered with her ability to sit and watch her kids playing in the yard. Now, with Brio Railing's available black metal balusters, this mom will never miss a moment of the action.

Fiberon Brio Railing in White with black metal balusters adds equal parts safety and style to this Connecticut family's backyard retreat.
Maintenance: When it comes to low maintenance railing, you can't beat composites. Unlike wood, composite railing never needs to be painted, stained, sanded, scraped, or refinished. And, since composite railing won't crack or split, you won't have to worry about splinters or other hazards. Plus, composite railing cleans easily with soap and water or common household cleaners.

Lake living is easy, and so is caring for composite railing. All that's needed to keep this Fiberon HavenView Countryside Railing looking its best is a little soap and water.
How do I care for composite railing?
Composite railing never needs sanding, staining, or repainting. Because it is an outdoor product, it will collect dirt and pollen from time to time — not to mention, the errant splash of ketchup or lemonade. For general cleaning, use mild soap and water or Fantastik® spray cleaner. For deeper cleaning, or to remove any oxidation, we recommend DeckMAX®PVC Revitalizing Wipes.
Fiberon Composite Railing: Find Your Perfect Match
Just as Fiberon offers decking to suit different styles and budgets, we also have railing to meet almost any homeowner's needs. Here is a quick look at the hard-working, great-looking composite railing lines we offer.
Fiberon

 

HavenView Countryside

 

combines the best of all deck railing technologies in one strong, stylish product. It's a state-of-the-art composite with a sturdy aluminum sub-rail.  The refined lines and elegant matte finish complement any architecture, while its hidden hardware completes the elegant look. HavenView Countryside composite railing

 

installs easily, and is backed by a 25-year limited warranty. It is offered in Tranquil White, Serene Black and Simply Brown and works with matching beveled composite balusters and round metal balusters.
Fiberon Brio Railing

 

has a clean, modern look that works well with almost any architecture. Plus, it has that flat top rail profile that doubles as a handy resting place for drinks and plates. Available in white, Brio Railing works with matching square composite balusters or black metal balusters, which are available by special order. It's available in multiple lengths for both line and stair applications and is backed by a 20-year warranty.